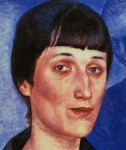 Anna Akhmatova, born Anna Andreevna Gorenko on 1889, is best known not only as a great Russian poet but as symbol of strength during Stalin's oppressive rule.  She began to publish her works as a teenager, using the pen name "Akhmatova" in appreciation of her Tatar great-grandmother.
She was central to the Acmeist movement, emphasizing imagery and clarity in crafting poetry.  Her distinctive poetic style was especially characterized by mythic, bitter lamenting qualities with lyrical flourishes and universal appeal.  Her life reflects this artistic approach, as Anna Akhmatova's early years were composed by an unhappy home life and romantic disappointments.  Her Tartar beauty made her the envy of all Russians of the period, but it also attracted these unsatisfying relationships.  Her early poetry emulated her emotional turmoil: she often wrote about unrequited love, and towards the end of her career she wrote with the convinction of an independent woman of equal worth to men.  From 1925 to 1940, her writing, like many other authors', were suppressed by Stalin's regime.
Despite official bans, her popularity allowed her to persevere and continue her work (albeit less colorful), and she avoided exile and physical restraint by Stalin.  Her greatest poem, Requiem 1935-1940, recounted her trials and tribulations during this period and illustrated
themes of imprisonment, powerless, and grief.  Through this poem, she "became the people's voice," conveying the despair and feelings of people without a voice in
Russia.  After World War II, after many thought her to be dead, Anna Akhmatova rose again to celebrity status, admired by a new generation of writers and critics. Her work stood out as a remembrance of neoclassical stylings from a period of artist freedom and fervor; as a person, she stood out as a powerhouse of persistence under the will of the State and loyalty to her friends, her country, and her people.
Question for discussion in class:
Anna Akhmatova admired another "voice of the Russian people," Pushkin.  What is the role of these two poets in the Petersburg tradition?
By Kristine Mosuela and Pete Giannino